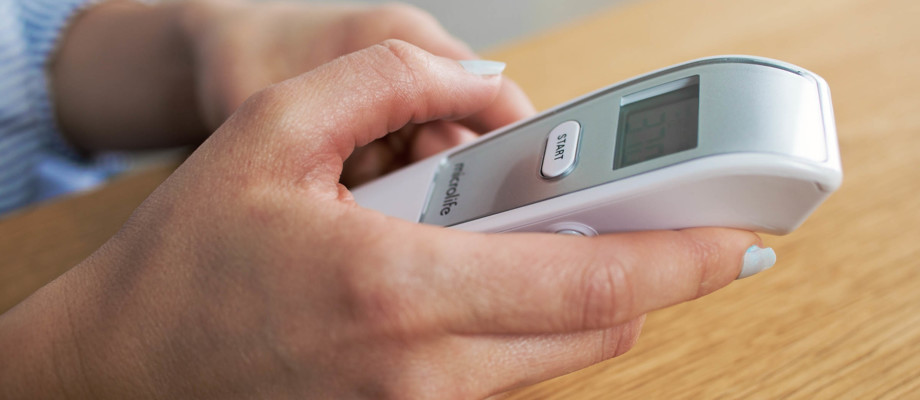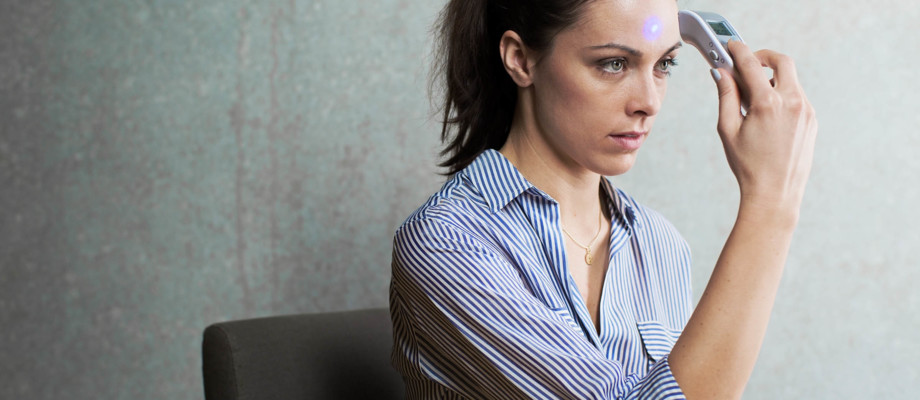 A blue LED light indicates the correct measurement area and the distance.
Silent Glow™ technology : A red light will show if temperatures exceed 37.4°C.
Silent operation especially for measurements at night.

Fast and gentle measurement in only 3 seconds.
Measurement of forehead, objects & ambient temperature in seconds.

Automatic storage of the last 30 measurement values with date and time.
1. How does the Microlife non contact thermometer work?
The Microlife non contact thermometer measures infrared energy radiated from the forehead. This energy is collected through the lens and converted to the correct temperature value.
2. Can the Microlife non contact thermometer harm you in any way?
No, Microlife non contact thermometers does not sending out any waves or heat at any time. It only acts as a receiver of heat.
3. How does the reading from a Microlife non contact thermometer compare to an oral, rectal or axillary reading?
Microlife's non contact thermometer measurements are comparable to an oral temperature from a quality thermometer.
Rectal measurements are slightly higher then oral measurements.
An underarm measurement is most impacted by room temperature, so accuracy is more difficult to verify.
4. Is the Microlife non contact thermometer suitable for premature infants as well as for the elderly?
Doctors recommend rectal measurement for newborn infants within the first 6 months, as all other measuring methods might lead to ambiguous results. If using a forehead thermometer on those infants, we always recommend verifying the readings with a rectal measurement.
5. When and how often should I clean or disinfect a Microlife non contact thermometer?
Clean a dirty lens or housing as necessary. Use an alcohol swab or cotton tissue moistened with alcohol (70 percent Isopropyl) to clean the thermometer casing and the measuring sensor. Ensure that no liquid enters the interior of the device.
Never use abrasive cleaning agents, thinners or benzene for cleaning and never immerse the device in water or other cleaning liquids. Take care not to scratch the surface of the sensor lens and the display
6. How do I know that the device is still accurate over time or after being dropped?
The Microlife thermometer performs a function check each time it is turned on. So, as long as you do not get an error message ("ERR") proper technique will result in accurate results. In accordance with international standards we recommend that you ask your authorized Microlife dealer to perform an accuracy check every two years.
7. What is the lifetime of the Microlife infrared thermometer?
Microlife products are designed for a long product life. Components used are of high quality and carefully protected. In spite of careful design & construction, abuse of the Microlife Thermometer can result in product failure.
When designing a new product, we perform stress tests of key components to ensure long-life. Our product is designed to last for 5 to 10 years under estimated 'normal' home use conditions.
8. How long should the battery last?
The battery has a life-time of at least 1000 measurements.
9. Is a Microlife infrared thermometer waterproof?
No, never immerse the thermometer into water or other liquids.